Patio Cleaning For Beautifully Clean Roswell Exterior Entertainment Areas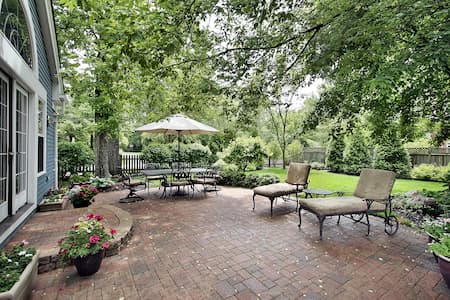 Outdoor fun begins with functional and enjoyable outdoor spaces, and professional patio cleaning by the experienced pressure washing and soft washing team at Realm-ality Pressure Washing LLC can affordably transform your Roswell backyard into the tranquil natural paradise of your dreams while leaving you plenty in your bank account to stock up on food and drink to help you enjoy your new outdoor living space.
Prepare your patio for relaxation and outdoor entertaining with a professional patio cleaning from Roswell's number one pressure washing and exterior surface cleaning experts: Realm-ality Pressure Washing LLC.
Porch Washing For Stress-Free Exterior Spaces
Wood, brick, concrete, or pavers, our patio cleaning, deck cleaning, porch washing, and fence cleaning pros have got your North Georgia property covered from front to back and side to side. We'll employ whatever method, or combination of methods, is required to make your outdoor spaces look their absolute best.
If your outdoor rooms require extra TLC to reach their true potential, then it's time to call the outdoor living space washing and patio cleaning experts at Realm-ality Pressure Washing LLC and let us transform your outdoor living areas into clean, comfortable, open-air lounges for viewing the wonders of nature and the neighborhood happenings.
Outdoor Entertaining Space Cleaning To Thoroughly, But Safely, Care For Your Property
High humidity in our area can promote organic growth like moss and mold, which can cause damage and even lead to possible slip-and-fall hazards. Add foot traffic and normal wear and tear and it's obvious why many patios and backyard living spaces look old before their time. We have the right combination of pressure washing and chemically assisted soft washing to make every deck, patio, pool deck, playground, or sports court look spotlessly clean and new.
Frequently Asked Patio Cleaning Questions
We believe a homeowner's biggest patio-related question should be to nap, or not to nap, but we're happy to answer any of your patio cleaning questions with informed answers from our exterior cleaning experts.
Drainage, the amount of shade your patio gets, and many other factors can increase or decrease the preponderance and growth of organic invaders like mold, mildew, and algae that can make your patio a slippery danger zone, so at the least, a visual inspection every year in Spring is recommended so your ready for the increased usage of your outdoor space in Summer.
We do not advise it because while high-pressure washing may fine on stone, cement, pavers, and other backyard ground cover materials, too high psi can dissolve grout and mortar between stones and paver joints and compromise the whole surface. When in doubt, call the pros at Realm-ality Pressure Washing LLC.
Sun, rain, and ice can fade and discolor concrete and stone patios, plus organic growth like moss and mold can compound the damage and even lead to possible slip-and-fall dangers. Patio cleaning is the kind of challenge we look forward to because the results from our professional, thorough, and effective patio washing and cleaning process will exceed your expectations. Realm-ality Pressure Washing LLC will execute a patio cleaning plan that will leave your patio renewed, rejuvenated, spotless, and looking like it was constructed only yesterday.
Transform Your Unclean "Realm" To Cleaner, Brighter "Reality"

Contact Our Roswell Pressure Washing Professionals Today!