Roswell Driveway Washing Can Wash Away Ground-In Stains And Dirt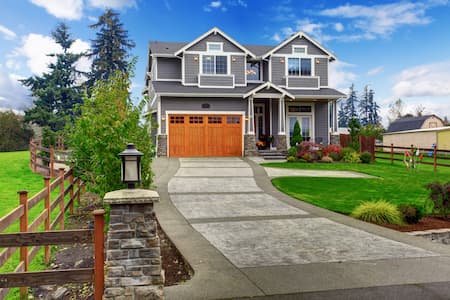 Realm-ality Pressure Washing LLC is Roswell's local authority on exterior cleaning and residential and commercial pressure washing, but we don't rely exclusively on our advanced pressure washing equipment and skills, we also excel at the science of soft washing: the use of eco-safe chemicals and cleaning solutions designed to kill, dissolve, and repel all varieties of organic growths and contaminants, like algae, mold, mildew, moss, fungi, and pollen.
We use a combination of eco-friendly, biodegradable chemicals and solvents to pre-treat and break down tough driveway stains and a high-pressure follow-up to complete our driveway washing process and leave your driveway looking sparkling and new again.
Driveways not only take on the abuses of nature that all exterior surfaces do, but they also are subject to foot and vehicle traffic that provides more dirt in the form of leaking fluids and that gets further ground into the concrete to make it even harder to remove. The driveway washing pros of Realm-ality Pressure Washing LLC combine high psi pressure washing with chemical presoaks and the latest eco-safe soft washing technology to make Roswell's residential driveways, commercial parking lots, and concrete structures spotlessly clean.
Professional Concrete Cleaning: Keeping Your Pavement Pristine
Not only are we the most reliable and affordable authority on pressure washing in the North Georgia region, but we're also the area's leading expert on graffiti removal, concrete cleaning, patio cleaning, and driveway washing.
The stubbornest stains, dirt, and discolorations will quickly and magically disappear from your flat exterior surfaces when our driveway washing experts treat them with our highly effective combination of high psi pressure washing and soft wash chemical pre-treatment. We can leave your driveway looking brand new and get rid if:
Oil, Coolant, and Grease Spills
Paint Spills and Graffiti
Smeared Rust, Leaf, and Vegetation
Dye and Bleach Discoloration
Roadkill and Animal droppings
Paved Surface Cleaning Pros Serving Property Owners
We masterfully use eco-friendly chemical solutions like detergents, bleaches, solvents, and natural mineral acids, along with a variety of pressurized spraying, scrubbing, cleaning techniques, and water power to attain driveway visual perfection.
After our driveway washing process, your driveway will shimmer and sparkle like new and set the stage for your Roswell property's curb appeal perfection. Impressive driveway cleaning results require intensive training in properly using heavy-duty pressure washing equipment with precision and expertise, paired with learned knowledge of the best method, a combination of methods, and cleaning solutions to get your driveway looking like the cement was just poured yesterday.
Frequently Asked Driveway Washing Questions
Are driveway washing questions driving you crazy? Don't worry; we've got answers to your questions, and the one answer that'll put your driveway washing maintenance on autopilot.
Yes. We've got the latest high-pressure, commercial-grade, fully-contained pressure washing equipment, and we've also got chemical solvents, mineral acids, and cleaning solutions designed for specific stains on specific surfaces. We've got an unbeaten record against stubborn stains and deeply embedded grime, and the pros of Realm-ality Pressure Washing LLC are North Georgia's exterior surface cleaning, restoration, and rejuvenation masters.
Yes, we can! From stubborn oil, rust, and grease stains on concrete and pavers; to discoloration and mold on walkways; to deeply stained and worn out pool decks; to contaminant buildup on driveways, we have the right equipment, the skills, the training, and the determination to conquer any stain and restore every part of your property to its clean, shining ideal visual appearance.
Transform Your Unclean "Realm" To Cleaner, Brighter "Reality"

Contact Our Roswell Pressure Washing Professionals Today!