About Realm-ality Pressure Washing LLC - A Reputable Roswell Pressure Washing Company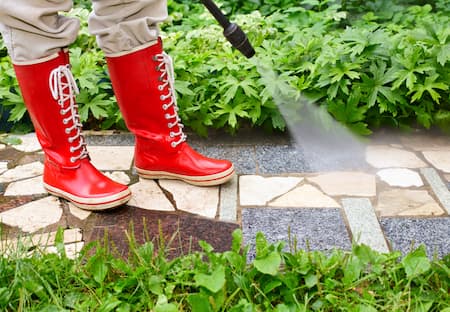 Realm-ality Pressure Washing LLC, a family-founded business initiated by a father-son duo, has been dedicated to exceptional service and the transformation of outdoor spaces for over five years. We have a passion for helping others maintain the beauty of their property by providing the most trustworthy pressure washing in Roswell and North Georgia. We use the best tools and high-quality cleaning solvents to get every job done right. Our personalized services will meet any of your residential or commercial pressure washing needs. For more information on our pressure washing company and our services, please contact Realm-ality Pressure Washing LLC today at 770-659-7901.
"For many, pressure washing is an occasional chore. For us at Realm-ality Pressure Washing LLC, it's an inspirational journey of holistic restoration, rejuvenation, and deep-seated respect. Every building has its unique story, and through our efforts, we aim to let that narrative shine brilliantly." - Chad Breeding, owner at Realm-ality Pressure Washing LLC
Mission Statement
Realm-ality Pressure Washing LLC is dedicated to rejuvenating properties, unveiling their inherent beauty, and ensuring their stories shine brilliantly. We believe in building trust, one clean surface at a time.
Our Company Values
Integrity First: Our commitment to honesty, transparency, and ethics.
Customer-Centric Approach: Our clients guide our every move.
Sustainability: Championing eco-friendly practices.
Attention to Detail: Pursuit of excellence through precision.
Continuous Improvement: We believe in evolution and growth.
Safety and Well-being: Ensuring our team and our clients are always safe.
Community Engagement: Aiming to be more than just a business.
Teamwork and Respect: Valuing collaboration and mutual respect.
Reliability: Our unwavering promise of dependability.
Passion and Drive: Every task is a project undertaken with zeal.
How We Help Our Community
Our range of services, including pressure washing, soft washing, roof cleaning, graffiti removal, deck cleaning, and house washing, is a testament to our commitment to quality and client satisfaction. Each service reflects our meticulous attention to detail and passion for rejuvenating spaces.
Pressure Washing: We take immense pride in transforming outdoor spaces with our pressure washing services. We efficiently remove dirt, grime, and mildew, leaving surfaces sparkling clean and extending their lifespan.
Softwashing: Our softwashing service is a gentle yet highly effective cleaning method. It safely removes dirt, algae, and mildew from your home's exterior, preventing potential damage from high-pressure washing and enhancing its visual appeal.
Roof Cleaning: Our proactive approach to roof cleaning prevents costly damage from mold and mildew, which can cause deterioration and potential rotting. We preserve your roof's structural integrity and curb appeal.
Graffiti Removal: As home prices rise, we understand the importance of maintaining neighborhood aesthetics. We meticulously remove graffiti, enhancing community cleanliness and respectfulness.
Surface Cleaning: We take pride in our comprehensive surface cleaning services. Whether it's your driveway, sidewalk, or patio, we ensure every surface regains its original cleanliness and brightness.
Deck Cleaning: Our deck cleaning service is vital for both aesthetic and safety reasons. The accumulation of mold and mildew can not only deteriorate your deck but also make it slippery, posing a risk for falls and accidents. Given that decks are typically made from organic materials, they require regular care to prevent decay and to maintain their safety and beauty. Our service eliminates these hazards, extending the life and enjoyment of your outdoor spaces.
The choice of the name of our pressure washing company, "Realm-ality", encapsulates the core mission of our pressure washing company. The hyphen "-" in the name is not just a separator but symbolizes the transition we bring about with our services. It stands for the journey from an unclean, unkept 'realm' to a cleaner, brighter 'reality' and captures the transformative process we excel in, bringing a better, cleaner version of reality into existence and it signifies the turning point where we transition a space into what it truly should be.
As our pressure washing company continues to grow and contribute to our community, we remain steadfast in our original values, offering superior services that enhance and maintain the beauty and safety of North Georgia homes and neighborhoods. Realm-ality Pressure Washing LLC is the pressure washing company you can trust to take the best care of your Roswell area homes and commercial properties.
Transform Your Unclean "Realm" To Cleaner, Brighter "Reality"

Contact Our Roswell Pressure Washing Professionals Today!