Roswell Fence Cleaning Professionals - Here To Help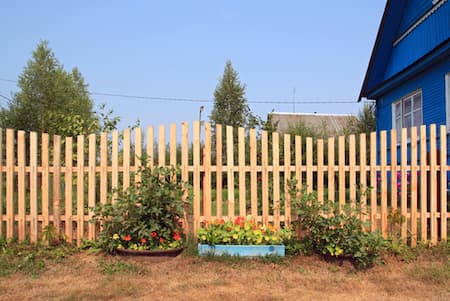 Mold, mildew, dirt, smoke, pollen, clay, rust, fungi, moss, algae; the list of potential threats to Roswell's outdoor surfaces is long and ever-growing. Professional fence cleaning by the experienced soft washing and pressure washing specialists of Realm-ality Pressure Washing LLC, not only restores your fence to its original new appearance, but will also protect your fence and border walls from aggressive organic growth and contaminants that can cause rot and decay, and necessitate avoidable replacement much sooner. Professional fence cleaning by Realm-ality Pressure Washing LLC, Roswell's pressure washing champion, restores the beauty of your property borders and also protects from damaging organic growth.
Fence Washing Professionals - Here To Help
In addition to security, fences are also a statement of your personal style and can play an important part in creating a vision of curb appeal or backyard comfort. The traditional white picket fence, the wrought iron gate, the river-stone wall, and the split wood rancher's style fence; all send a style message and accent and compliment your home and property's total curb appeal and instill a pride of ownership that'll give you a little lift every time you pull into your driveway.
Realm-ality Pressure Washing LLC has the expert technicians, equipment, and know-how to bring out the best in fences of all kinds, including:
Metal
Wood
Vinyl
Brick or Block
Chain Link or Picket
Wood & Vinyl Fence Washing To Extend The Lifespan Of Your Fencing
Fences are about defining your property lines and ensuring your privacy, not about fencing you in, they're about fencing things out, so it's especially concerning to see algae, mold, and mildew creeping around your fence. It's like a microscopic attack that slowly builds in intensity until your border is compromised and your ideal backyard view is contaminated and spoiled.
Fence cleaning by professionals expertly wielding variable water pressure with advanced equipment and employing biodegradable chemicals to kill and remove organic growth restores your wooden or composite fencing and decking to its original appearance and deters future organic organisms from growing and rotting your fence.
Frequently Asked Fence Cleaning Questions
We're Roswell's most trusted fence cleaning, house washing, and driveway cleaning service provider and we're always happy to answer any of your fence cleaning and exterior surface maintenance and care questions.
Mold, mildew, algae, and other organic invaders are notorious for attacking and degrading wooden, plastic, and composite surfaces if not professionally removed, causing unnecessary replacement and repair far sooner than should be required. Wood rot caused by natural contaminants greatly decreases the usable life of expensive fences, so fence cleaning is a smart investment in preventative maintenance as well as property cleaning and beautification.
If you've ever sanded, wire-brushed, or scrapped a fence or structure in preparation for a new coat of paint or stain, you know what a tedious and time-consuming, yet very necessary, chore it is because the paint won't stick to the surface otherwise. Why subject yourself to that kind of needless torture when we can do a better, more thorough job in a few hours, and for a very budget-friendly cost? When it's time to repaint or restain, call Realm-ality Pressure Washing LLC, and make paint and stain prep painless, fast, and perfect.
Transform Your Unclean "Realm" To Cleaner, Brighter "Reality"

Contact Our Roswell Pressure Washing Professionals Today!