Roswell Storefront Washing To Create Enticing Businesses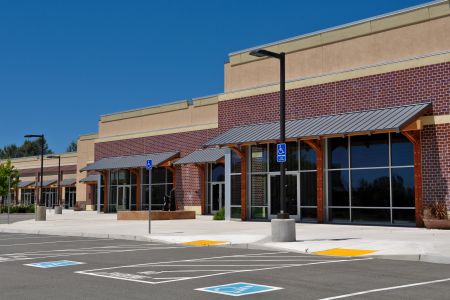 In today's competitive business market, where appearance, sanitation, and disinfection are increasingly stringent requirements for many potential customers to even cross your threshold, regularly scheduled storefront cleaning is more important than ever.
People begin judging your Roswell area shop, office, or store before they even enter it, by the cleanliness of your storefront. Storefront washing is just one of the highly-rated exterior cleaning specialties of the preferred commercial pressure washing services vendor in Roswell and the surrounding area: Realm-ality Pressure Washing LLC.
Retail Property Pressure Washing To Best Maintain Your Commercial Spaces
Building washing, graffiti removal and commercial pressure washing are all primary subjects in the ultimate exterior image you envision for your business, but your retail storefront is at the forefront of that vision. Successful entrepreneurs know that image is everything when promoting your brand, and nothing sells your image like a positive first impression on approaching your storefront.
The good news is that a quick call can remove that worry from your checklist and ensure your brand's exterior image success when you contact the storefront cleaning experts at Realm-ality Pressure Washing LLC for affordable, worry-free professional storefront cleaning.
Business Facade Washing To Present Your Business Properly
Dirty, unkempt, run-down-looking storefronts can drive away some potential customers, so professional storefront cleaning is a necessary business maintenance expense, but your brick-and-mortar storefronts and business properties are also image-building and brand-promoting advertising opportunities that shouldn't be ignored.
Our balance of high psi pressure washing and chemically assisted low pressure and no pressure soft wash techniques pack a storefront cleaning one-two punch guaranteed to enhance the appearance of your Roswell or Alpharetta commercial property and elevate your storefront to logo-worthy status.
Frequently Asked Storefront Washing Questions
If you've got questions about commercial pressure washing, building washing, storefront washing, or graffiti removal, Realm-ality Pressure Washing LLC is the local authority on commercial exterior surface cleaning, and we've got all of the answers.
Well, in addition to getting fully licensed and insured, we're skilled professionals who will do the job right, the first time. Inexperienced pressure washers can inflict far more damage than the little bit of expense you'll save by burdening your staff with a task best completed by a pro. Pressure washing mistakes can do permanent damage to your property, and to your staff's bodies. In short, pressure washing is actually pretty complicated and challenging if you want to get consistently superior results on a wide variety of surfaces, so it's a good idea to hire a pro if you want the best storefront cleaning results without costly mistakes.
Transform Your Unclean "Realm" To Cleaner, Brighter "Reality"

Contact Our Roswell Pressure Washing Professionals Today!